March 10, 2023 – Professor Victor Mbarika, the founder of the Information Communication Technologies, ICT University Cameroon, has been distinguished as the 2022 Man of the Year by The Guardian Post. The award ceremony took place on March 4, in Cameroon's economic capital, Douala.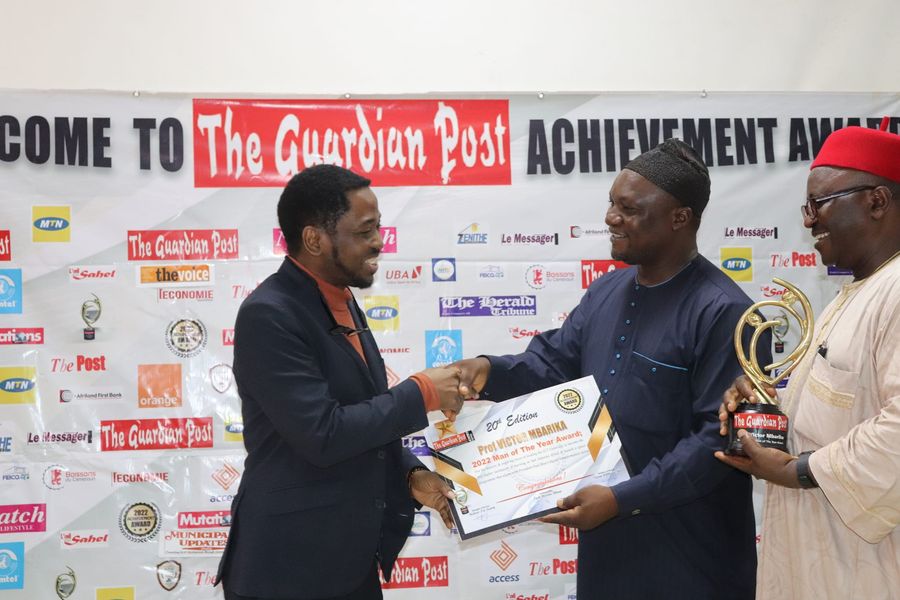 A member of the jury said Prof Mbarika won the award "for his historic and inspiring move in leading the ICT University to become the first higher institution of learning in Sub-Saharan Africa to launch a space programme that aligns with President Paul Biya's digital transformation vision, The Guardian Post reported. "This award is about credibility. Nobody doubts the credibility of Prof Mbarika. He has done so much for this country. He is amongst the few Cameroonians in the diaspora who have heeded the call of the Head of State to come back home and assist in building this nation."
Stallings Distinguished International Scholar and Full Professor at East Carolina University (ECU) within the University of North Carolina System, in Greenville, North Carolina, USA, Prof. Mbarika is the Founder and President of, the Board of Trustees, of The Information and Communication Technology University (ICT University), with multiple campuses in developing countries.
This is not the first time the distinguished scholar has won awards of international exposure by the 2022 Man of the Year award; represents the first time he is picking one in his home country. The American-styled University and its founder, Prof Victor Mbarika were conferred two prestigious international awards by the international committee of excellence, ICE. While the ICT University bagged the prize of "Sub-Regional Award for Academic Excellence and Innovation 2021", its founder, Prof Victor Mbarika was honoured with the distinction of "African Entrepreneurship Prize 2021".
"Man of the Year Award, 2022? All Glory to God! I have been blessed to receive three Lifetime Achievement awards in the past 10 years," Prof Victor Mbarika said. "Those awards were received in foreign lands. This one is most special, coming from my beloved country, Cameroon. Yes, this comes from my people, and I am super proud. Thanks to the selection committee. Came as a good surprise!"
The Voice Newspaper named Prof. Mbarika as Cameroon's Hero of the five years spanning 2016-2021; The Guardian Post newspaper named him as one of few "Cameroonians that moved mountains in 2021;" INSPIRE Magazine named Prof. He was cited as being "in the forefront of academic research into ICT implementation in Africa, and has provided a theoretically informed framework for understanding ICTs in less developed countries…"
In his acceptance speech, Prof Victor Mbarika said his institution is determined in writing Africa's own story. "It means the world to me to get such an achievement award in my own country. So I feel honoured," Prof Mbarika said.
"Sometimes a prophet is not recognised in his own home. I have had a lot of international recognition. I became a professor at a very young age, so I have had a lot of big awards but to me, this is the most special and I mean it. This is because it is from home," he continued.
"This award means a lot to me, this is home to me. I have been blessed in so many ways. I have had so many awards but this one is so special to me. Being the Man of The Year for such a great country is so humbling," Prof Mbarika added.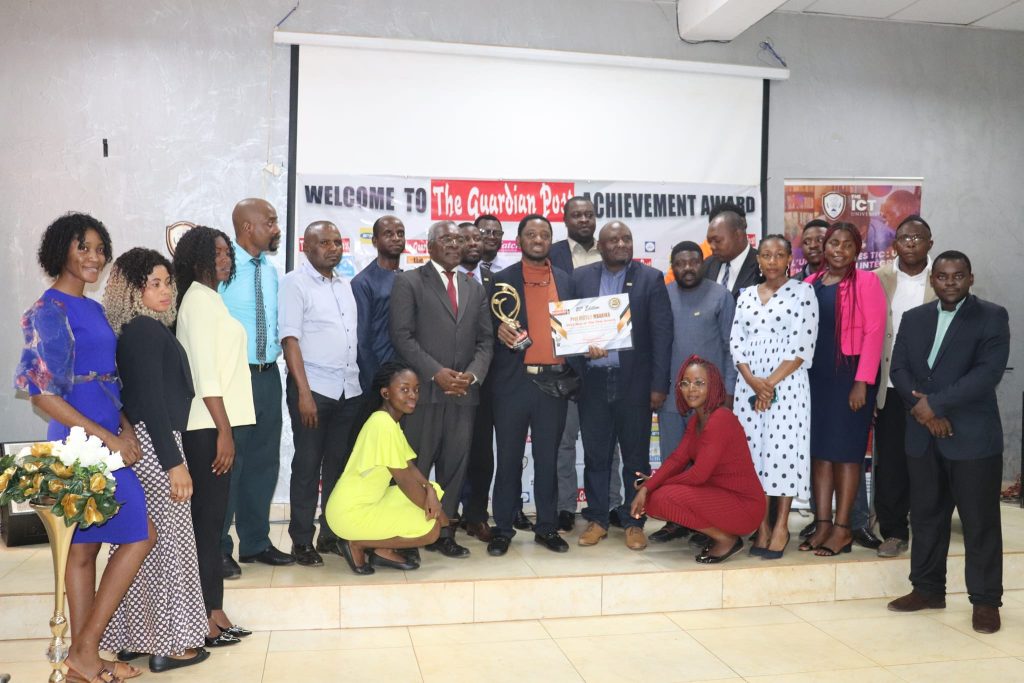 The ICT University in all fairness is amongst the fastest-growing universities in Africa and beyond. With just over ten years of its existence, the ICT University has gained international recognition and credibility due to its approach to learning.
Serving more than 15,000 students worldwide via on-site and online programs, the ICT University develops productive and relevant Diploma, bachelor, master's and Doctoral level scholars to utilize their research and training in solving the substantial problems in their countries.
With a plethora of programs at the undergraduate, graduate and doctoral levels, including diploma and certification programs, the ICT University offers a dynamic and flexible learning environment that inspires innovation and creativity and lays emphasis on student access.
Asked about the significance of the distinction, Prof Mbarika said: "This award represents God's grace in my life. I was brought up to believe in God and myself. I was brought up to understand that nothing is impossible."
"I am dedicating this award to my family and staff members not just here in Cameroon but beyond," Prof Mbarika concluded.
Source: Pan-African Visions